"You know, there were no books for my children when I transitioned"
---
1. Early days in the Unites States
It started with a simple phrase "You know there were no books for my children when I transitioned".  So spoke Mr. Sayer Johnson, president of the Metro Transgender Umbrella Group in an informal exchange with Aminata Cairo after one of his many public presentations in 2013.  That phrase stuck in her head and wouldn't leave.  So a few weeks later she contacted him with an answer: "I think we can do something about that", and so the Love Me For Me project was born.
From 2013 to 2014 Dr. Aminata Cairo then Assistant Professor Anthropology at Southern Illinois University (SIUE) engaged in a collaboration with the Metro Transgender Umbrella Group (MTUG) from the St. Louis Metro region under the direction of Mr. Sayer Johnson and Ms. Anne Wolfe from the Edwardsville Library Children's Department.  Students that attended an applied anthropology course and an independent study course were able to engage the transgender community and collect data that contributed to the production of six children's stories.  In addition Dr. Cairo and Mr. Johnson submitted the project for a SIUE Meridian Grant and received funding for an illustrator (Samir Barrett) of the stories.  Subsequently, Professor Kathryn Bentley from the SIUE Department of Theater and Dance became involved and organized a reader's theater production of the stories with students and community artists.  The stories were performed as part of Transgender Visibility week 2014 at the NCCJ conference, the St. Louis LGBT Center, SIUE, and the Edwardsville public library.​
The next part of the project, to collect funds to get the stories published in book form, had to be placed on hold as MTUG was forced to put their energy in other priorities of the transgender community, namely immediate survival in providing housing, safety, and economic stability.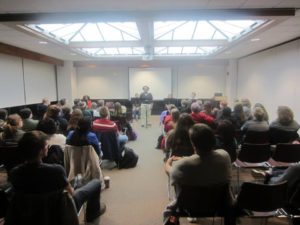 ---
2. Now, In the Netherlands
Now, in 2017 the project has been revived in the Netherlands.  Leiden University represented in the Office of Diversity and Inclusion and students from Leiden University College have taken the initiative to continue the vision.  Together with members of the LGBTQ community in the region (Amsterdam, Rotterdam, The Hague), Dr. Cairo and her students worked towards the publication of the stories. In 2017 they brought the Teathers' reader performance in several community centres throughout The Netherlands, in collaboration with the organization The Hang Out 070.
Since September 2017, Dr. Aminata Cairo has been a lector at The Hague University of Applied Sciences, and once again the Love Me for Me project followed her. This time, the objectives of the project are to publish the stories in a paperback edition, to implement the book with one non-binary story, and to draft a teachers' guide. The teachers' guide is meant to help parents and teachers talk about the content of the stories with the children.